Barrie Kitchen Exhaust Cleaning
Kitchen Exhaust Cleaning Specialists
Commercial Cleaning Service
*** We are NFPA #96 CERTIFIED Kitchen Exhaust System Cleaning Company.
*** We provide Health & Safety CERTIFICATE as per NFPA 96 code, before and after pictures will be provided after the completion of work.
*** WSIB and Liability Insurance will be provided before the start of work.
We Have The World's Most Awesome Clients










Barrie Kitchen Exhaust Cleaning
Maintain your kitchen exhaust system to avoid any potential risks! Barrie Kitchen Exhaust Cleaning is positive that the best way to reduce fire hazards in your restaurant kitchen is through commercial cleaning services.
NFPA's guidelines provide that commercial kitchens must be cleaned at least once a year to reduce the risk of fire and maintain compliance with health codes. Barrie Kitchen Exhaust Cleaning has been helping businesses in your area stay clean and safe for over 20 years. Our team is highly trained and experienced in providing thorough, effective kitchen exhaust cleaning services that help keep your restaurant clean, compliant, and hazard-free.
We train and certify our technicians to NFPA standards so that you're always covered during inspections. Plus, our services comply with all government regulations. Don't let a fire or any similar tragedy ruin your investment – trust Barrie Kitchen Exhaust Cleaning to provide the best commercial cleaning services for your kitchen exhaust system.
Our kitchen hood cleaning service is made up of several components, including:
Exhaust fan cleaning – We remove any grease traps and clean the unit to reduce the risk of fire.

Duct cleaning – Our technicians will carefully inspect your ducts for grease build-up and potential clogs that could lead to a dangerous fire.

Filtration system cleaning – We'll clean the air intake to improve airflow and reduce the risk of fire.
If you're dealing with a dirty, clogged commercial kitchen exhaust system that's putting you at risk, contact Barrie Kitchen Exhaust Cleaning today for effective, professional cleaning services. We offer competitive rates!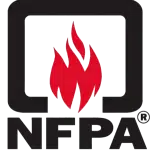 Our Fully Trained Service Technicians Follow The NFPA 96 (National Fire Protection Association) Standards for Hood & Kitchen Exhaust Cleaning.
Get Your Free Hood Cleaning Estimate Now!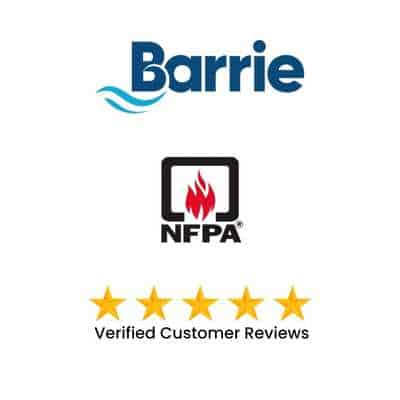 There's an abundance of reasons why a professional kitchen exhaust system cleaning in Barrie makes sense:
1 – It significantly reduces, even eliminating, the threat of a fire breaking out in your commercial kitchen. Though grease fires are common in a hectic kitchen, you shouldn't let one accident ruin all your progress. By keeping your duct and kitchen exhaust system clean, you create a barrier between any small flare-ups and a full-blown fire that could destroy your restaurant. Even if a flame reaches the ductwork, without the grease buildup acting as fuel, you have time to contain the fire and prevent it from causing extensive damage.
Kitchen Exhaust System Cleaning in Barrie
2 – Professional cleaning is an investment in a clean and healthy kitchen. While you may feel it's unfathomable that even a small amount of grease can create problems, the reality is that a heavy coat of grease within your ducts and exhaust system creates an environment where dangerous bacteria and allergens thrive. It also spreads odours throughout your restaurant and building, making everything smell like fried food. Kitchen Exhaust System Cleaning in Barrie removes those harmful substances and leaves behind an environment that is not only safer but also promotes a healthier staff and customers.
3 – It increases the efficiency of your kitchen equipment. When there's a higher volume of food cooking in your restaurant than you can handle, it's tempting to ramp up the heat so things get done faster. Unfortunately, this means that the average temperature in your kitchen rises, a situation that also results in higher humidity. The more moisture there is in indoor air, the less efficient your appliances work and it can damage them as well. By having periodic professional cleanings performed on your kitchen exhaust system, you can keep everything working better for longer.
Exhaust Systems Cleaning in Barrie
Exhaust systems in kitchens that operate with ovens, stoves and cooktops may contain food particles that can get accumulated in the hoods and vents. These systems must be cleaned at regular intervals to avoid any kind of accidents or fire hazards. This isn't only for compliance purposes as well.
Cleaning exhaust systems in kitchens is, at the same time, a risky and clean process. Exhaust Systems Cleaning in Barrie afford the best solutions for this. Our hood cleaners are well-trained and skilled to perform these services, which ensure that all parts of the system are free from any kind of filth, including grease, grime, and oil.
Exhaust Systems Cleaning in Barrie is a process that involves the use of detergents along with a fine-tuned hose and pressure system to clean out grease, food particles and other debris from exhausts. Cleaning is only the first step; following it with comprehensive testing ensures that your systems are operating with maximum efficiency.
Exhaust Hood Cleaning for Barrie Restaurants
Restaurant owners can take advantage of our exhaust hood cleaning for Barrie restaurants. We have designed these comprehensive cleaning packages to suit your needs.
Exhaust systems can pose a potential fire hazard if they aren't cleaned properly. The difference between professional exhaust hood cleaners and a DIY approach is like night and day. We don't recommend you clean your exhaust hood in a commercial kitchen because it can lead to fines for not complying with local regulations.
The pros know what it takes to ensure a kitchen environment complies with local health regulations. The flue of your kitchen must be cleaned every six months, or it will cause a serious fire hazard even after cooking is done.
When you hire our exhaust hood cleaning for Barrie restaurants, the results are guaranteed to go beyond expectations. You'll soon see how clean and sparkling your entire kitchen becomes, and that's a guarantee!
Commercial Cleaning for Barrie Restaurants
What goes into commercial exhaust cleaning is something that's not always well known, but when you own a restaurant in Barrie, it just makes sense to have the best clean possible. This can be done by hiring a company that has experience in commercial exhaust cleaning. The benefits of doing this are numerous and will give you the confidence to know your restaurant is being taken care of properly.
Commercial cleaning for Barrie restaurants begins with a comprehensive inspection of all areas of the exhaust system. The company you hire will be looking for any grease build-up on the hood system, filters, ducts, and vents. They'll also be checking to ensure there isn't a fire hazard in the area due to debris accumulation.
Once they've checked everything properly, they can then move forward with the cleaning process. This will include removing grease and debris from the hood system, scrubbing any accumulated grease off filters, ducts, and vents, and doing a thorough inspection afterward to guarantee everything is working properly before they leave.
Professionally Trained Hood Cleaning Specialists
Don't settle for anything less. When it comes to hood cleaning, only a trained and certified specialist will do. Make sure you hire a company in Barrie that provides both commercial exhaust cleaning and fire prevention services to make sure you're getting the best of both worlds.
When looking for Professionally Trained Hood Cleaning Specialists to handle your restaurant's needs, ask if they provide yearly inspections too. Having this done will help prevent problems from arising in the future and show you they stand behind their work.
Barrie Hood Exhaust Cleaning Services
If you no longer can recall the last time you had your commercial kitchen exhaust system cleaned, it only means one thing: you are long overdue for a cleaning.
Commercial kitchens operate under stringent health and safety regulations that require commercial kitchen exhaust systems to be cleaned on an annual basis. As such, there's no excuse not to get the system cleaned before the next health inspection rolls around! The best way to avoid any inconvenient surprises is to schedule Barrie Hood Exhaust Cleaning.
We get rid of grease buildup on hoods, filters, and ducts. This ensures a clean, safe kitchen environment and maximizes your system's efficiency. Hood cleaning also helps mitigate costly repairs and minimizes energy consumption.
Barrie Hood Exhaust Cleaning is a leading cleaning company for commercial kitchen exhaust systems in Barrie, ON and the surrounding areas. We're a fully licensed, insured, and bonded contractor for your peace of mind. Our team of professionals uses the latest technology to clean even the most stubborn, hard-to-reach areas in no time at all.
Kitchen Exhaust Cleaning
Company in Barrie
So, you finally decided that paying for an expert cleaner's service is worth it. Good for you! Now, it's time to start your search for a company that will do a great job cleaning your kitchen exhausts! There are many available companies offering this service, but there's no guarantee everyone you chance upon will do a great job.
If you want to get the best service for the money, there's no better option than Barrie Hood Exhaust Cleaning. Our comprehensive cleaning services are focused on all aspects of your exhaust system rather than just one or two areas like some of our competitors. We'll not only clean inside and out but we'll also clean areas that might be difficult to reach, ensuring your kitchen's exhaust system is cleaned the way it's supposed to be.
Restaurant Exhaust Cleaning Barrie
If you own a commercial kitchen, then you know that grease is one of the most arduous issues to get rid of. Many businesses simply can't keep up with the problem, which is why it's so important to find a long-term solution that works for your specific business.
We have extensive experience with commercial kitchens and know how to prevent grease fires. These fires are common and can cause a lot of damage in a very short time if not properly managed.
Grease build-up in your exhaust system can easily ignite from sparks, electricity and flames created while cooking. If you thought cleaning the grease from your kitchen exhaust was amazing, wait until you see what our team can do! We specialize in deep-cleaning all types of food service facilities – something that not just any local janitorial company can say. Our years of experience and attention to detail ensure that your facility will meet or even exceed even the most stringent code requirements.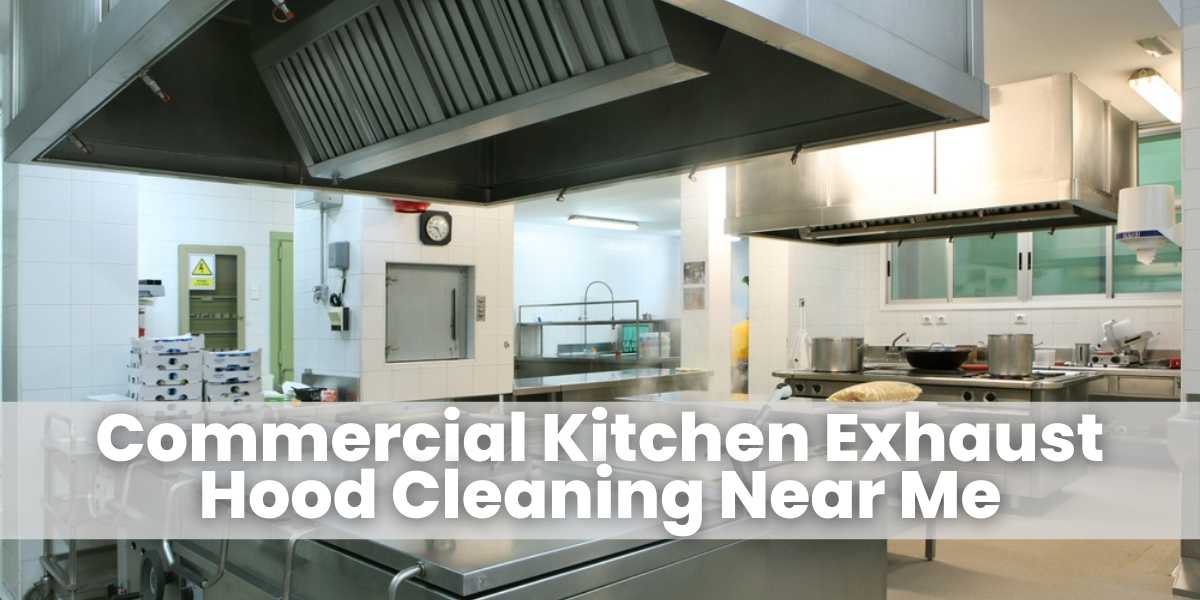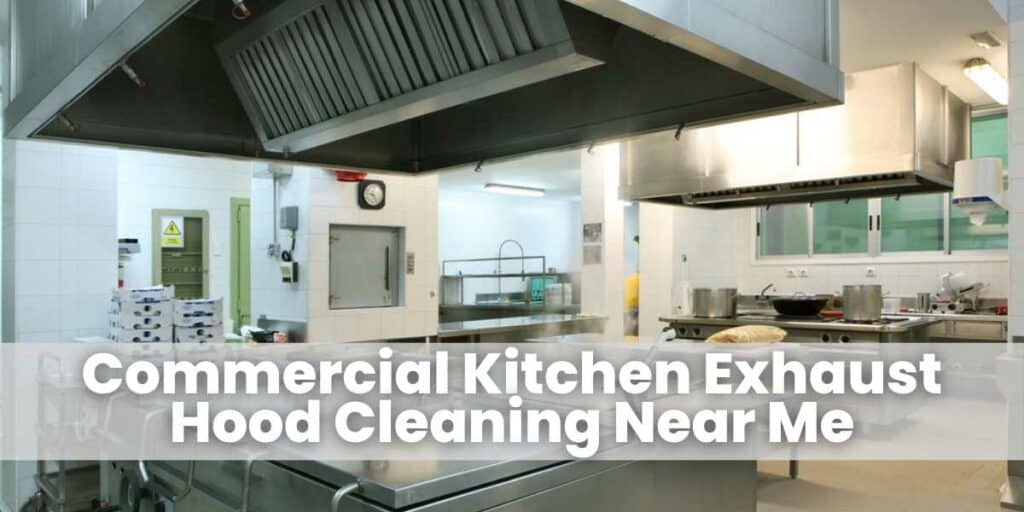 Commercial Kitchen Exhaust Hood Cleaning Near Me
If you're looking for a reliable commercial kitchen exhaust hood cleaning service that guarantees quick results, then you've come to the right place! We come with experience in this field and work fast so as not to disrupt your business. Our expert cleaners have been trained in all aspects of cleaning your exhaust system including the removal of grease build-up and other contaminants.
We take great care in affording you the best value for your money and we guarantee customer satisfaction every time! So, don't wait until it's too late. Get in touch now and allow us to show you what we can do to help keep your business running with zero risks of built up grease fires!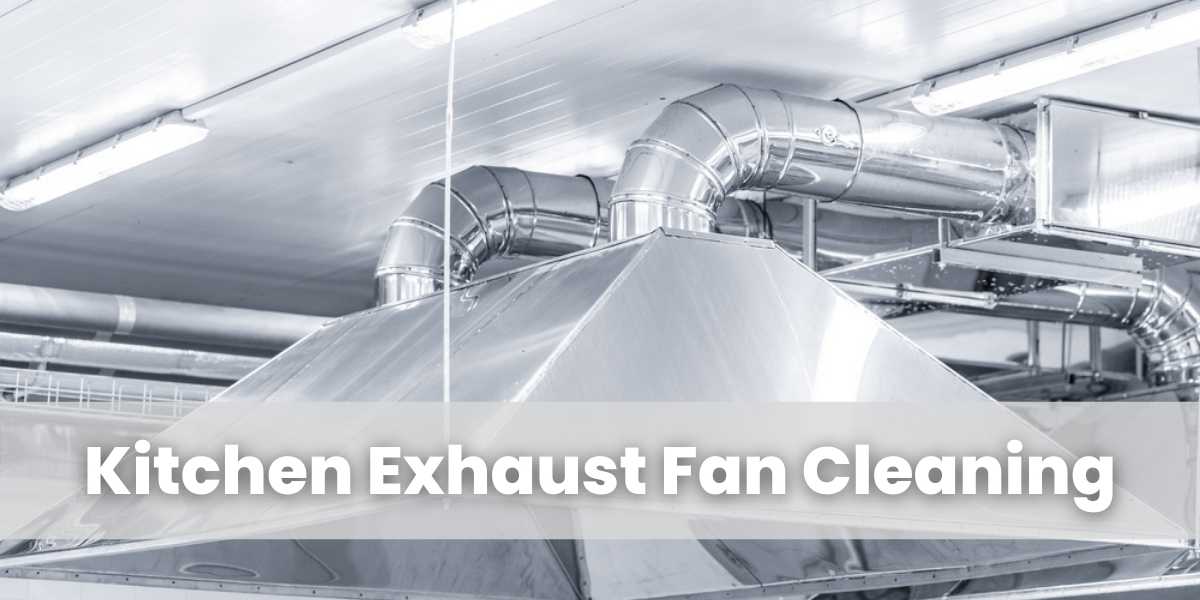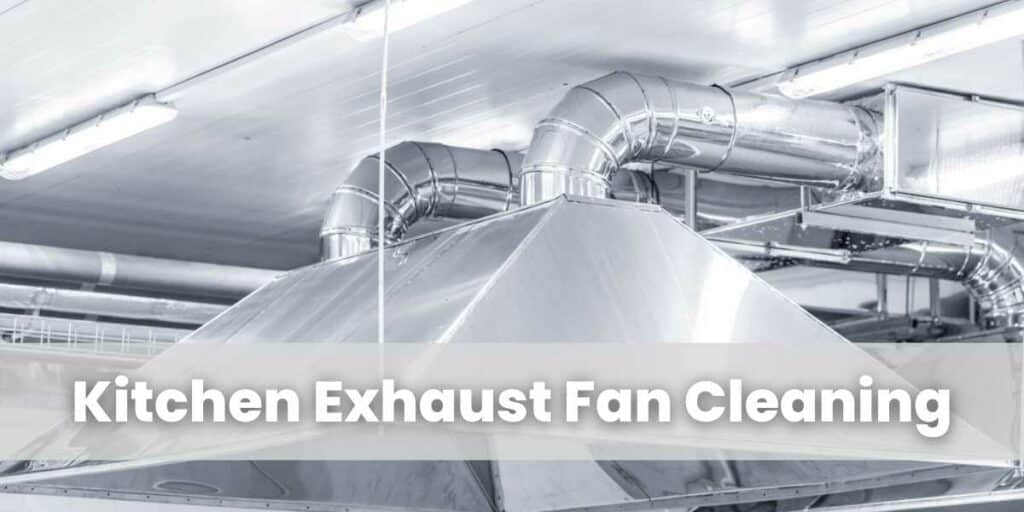 Kitchen Exhaust Fan Cleaning
A kitchen exhaust system is made up of several parts such as the hood, fans, filters, and ducts. They're all interconnected to provide proper ventilation of smoke, heat, and grease from cooking. If any of these parts are missing or not working properly, it can hinder your exhaust system's efficiency which could potentially result in a fire.
As you might have guessed, kitchen exhaust fans bear the greatest responsibility to keep your kitchen exhaust system working properly.  Unfortunately, it gets so dirty over time that it becomes less effective at keeping your kitchen ventilated. That's why we use special tools, chemicals, and methods to clean it and ensure it's working perfectly, ensuring healthy indoor air quality.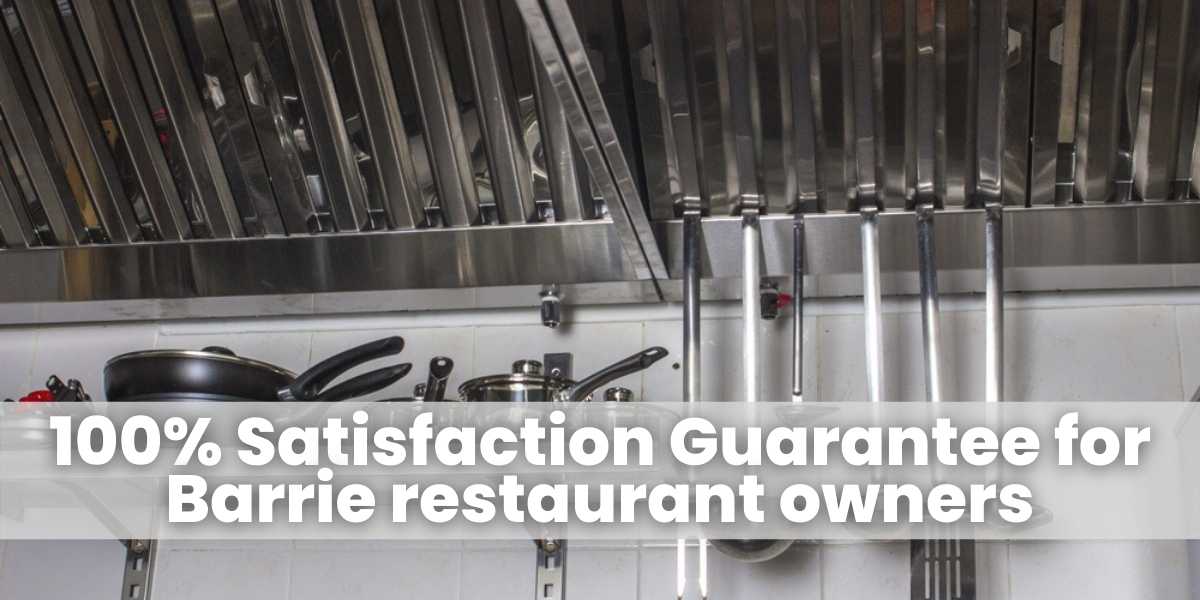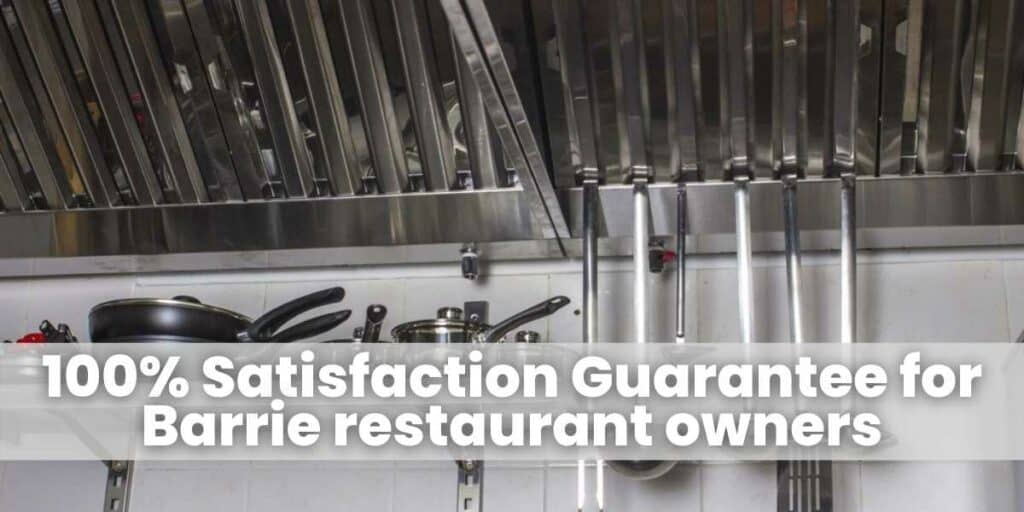 100% Satisfaction Guarantee for Barrie restaurant owners
It doesn't matter if your kitchen is in a food chain or private restaurant – you'll most likely need the services of a professional exhaust cleaner! We serve at the pleasure of Barrie restaurant owners. We offer a 100% satisfaction guarantee to all our customers. We stand behind our work and will do whatever is necessary to ensure your complete satisfaction.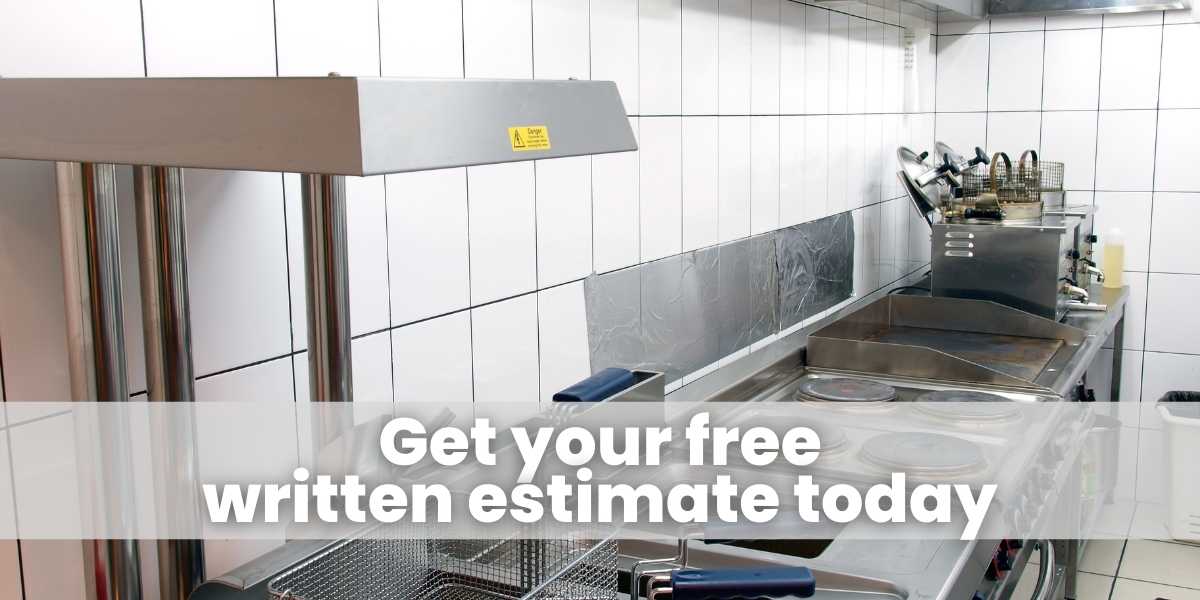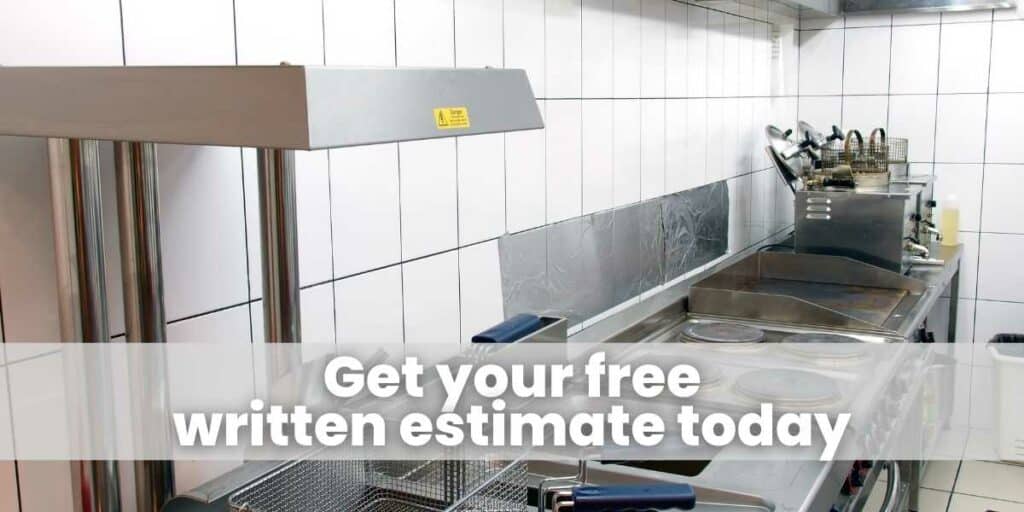 Get your free written estimate today
Don't forget to ask us about our special deals and packages, so we can help you save money while getting your kitchen exhaust cleaning service done quickly! If you'd like a free written estimate, contact us today by phone or through our online form. We work hard to provide the best possible services for all our local customers.
What People Are Saying
See what our customers are saying about us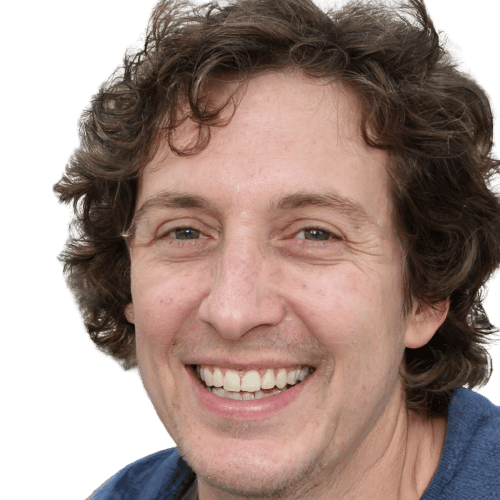 Really happy with the quality of their cleaning services.
Best Hood Cleaning Company
Barrie Hood Cleaning Areas Serviced